| | |
| --- | --- |
| | Hull Cores |
Hull Cores
Back to Projects
---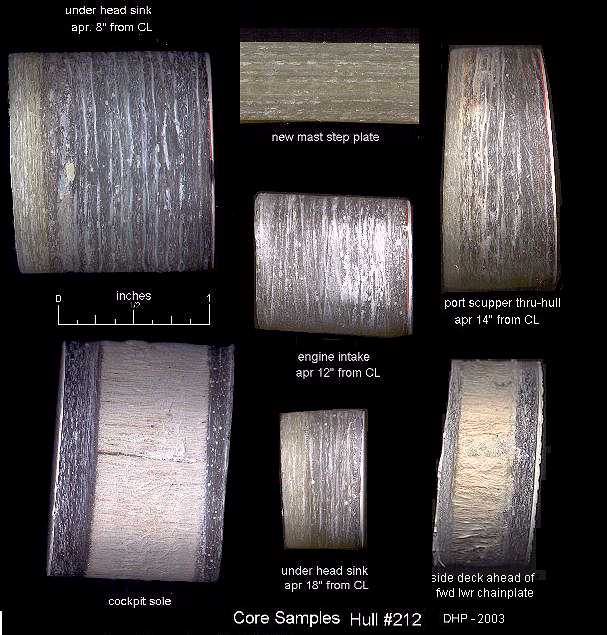 This photo shows the cores from various thru-hull mountings and a cross section of the new mast step plates I made. There is a lot of variation in thickness for the cores. You can see the epoxy barrier coat and the original red gelcoat on the hull cores and the non-skid gelcoat on the cockpit core.

The thickest core (upper left) was from the speedo impeller mounting under the head sink. It's about 8" from center line and is over an inch thick. The core has about 3/16" of extra glass that I added before drilling the hole (lighter section at left). I thought I might want some extra thickness for the mounting.

moving outboard about 12" from the speedo I mounted the new head intake seacock (middle bottom). The hull was not nearly as thick here and I was glad I added the 3/16 glass pad inside.

The engine intake seacock is on the starboard side of the engine about 12" from centerline. I did not add a pad on the inside of this one (middle center).

I re-located the port scupper seacock to make room for batteries to the port side of the engine. The hull here was tapering pretty fast as you moved outboard. I added a pad on this one, but it's only about 1/8" thick.

I relocated the fuel fill from the port side deck to the cockpit sole. The sole is cored with 3/4" balsa (lower left). My P26 had 1/2" core in the cockpit sole. The 3/4 makes the sole a lot stiffer. And the glass skins are a bit thicker.

The side deck cross section came from the deck washdown fitting I installed on the port side just ahead of the forward chainplate. The deck is tapering to the rail here. Note how thin the inner skin is. This is about where the stanchions mount.

The last cross section on this photo is the new mast step I made. The lay-up is 17 layers of biaxial glass in epoxy resin. I did the lay-up in a press on my workbench. See the mast step page for details on this project.