| | |
| --- | --- |
| | Foredeck Padeyes |
Foredeck Padeyes
Back to Projects
---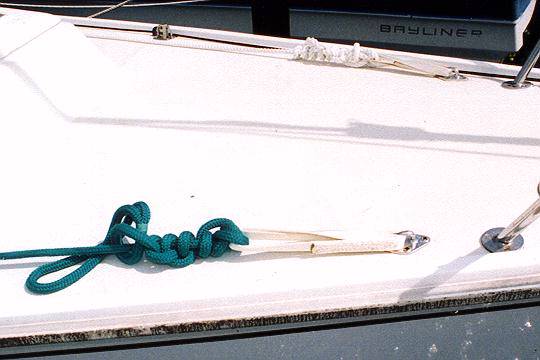 As Hurricane Isabel approached my Marina in September 2003 I decided I needed some additional strong connection points for tying lines on the boat. I mounted these two large Merriman padeyes on the foredeck just aft of the pulpit. I chose this position to give a fair lead to spring lines attached here and to put them in a good spot for a backing plate below.

I started by drilling 1/2" holes through the outer skin and through the balsa but not through the inner skin. I did put a small hole all the way through just to be sure I was in the right place. I removed the balsa core for about a 1" radius around each hole. I have a series of three 1/8" Allen wrenches that I have cut to increasing lengths with a chisel shaped end. I chuck these in my cordless drill and use it to chew out the balsa. I start with the small one (about 1/4" long) and work up to the longest (about 3/4"). I suck the balsa chips out with a vacuum. Then I filled the holes with West epoxy with a silica filler (406) to thicken it and add some strength. Once that set I drilled 7/32 holes for the mounting screws. I tapped threads in these holes for the 5/16-18 fasteners. The threads are to provide a better seal more than for strength. I made backing plates of 1/4" thick fiberglass and put large fender washers under the heavy nuts.

I made up endless strops from some heavy webbing. This is 9,000 lb test webbing. I took a 6 foot piece and sewed it into a loop. I passed this through the padeye and then had two loops to tie the spring lines to to better spread the load. I use a knot called an anchor hitch to secure the spring lines to the strops. This seemed like a very secure set-up and it came through Isabel without a problem.
---
Parts/Materials Used
Merriman diamond padeyes - large size
West System Epoxy (105 resin 205 harneder)
West System 406 Coloida Silica filler
Boat Life Sealer Caulk (polysulfide)
Fiberglass Backing Material McMaster Carr #8537K25

De-coring tools