Stuffing Box
When I got a new prop shaft I took the opportunity to replace the stuffing box hose and re-pack the packing gland with GFO Gore-Tex packing. The hose is 2-1/4 ID I got it a Fawcetts in Annapolis, the part no. is BUK HO225. The packing is GFO 3/16" part no. 01875 and I packed the gland with four pieces. I could cut 5 from the 24" length in the package. I might have been able to fit 5 pieces but I think that would only have left about 1/4" of thread to tighten the packing nut down.
Dimensions ( hull 212 with 1-1/8" diameter prop shaft)
packing size = 3/16"
Packing length = apr 4-3/8", 24" will make 5 pieces, 4 fit in gland

---
Parts Used GFO Fiber Packing 3/16" part no. 01875
Stuffing Box Hose, 2-1/4 ID, Fawcett part no. BUK HO225


Parts Sources
GFO Packing from e-Marine, Inc
Fawcett Boat Supplies, Inc in Annapolis . . . Stuffing box hose and clamps

Stuffing box after 18 years with McLube coating to protect from corrosion...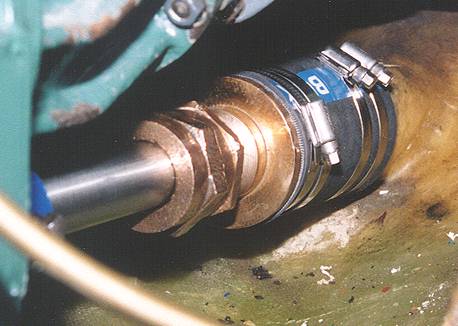 This is the freshly re-packed stuffing box with a new hose and clamps. The prop shaft is also new. I cleaned up the bronze packing gland and buffed it with a buffing wheel. I clear coated it with McLube. We'll see how it holds up. The new hose was shorter then the original but this did not seem to present any problem especially with the new prop shaft.
Another photo of the stuffing box/hose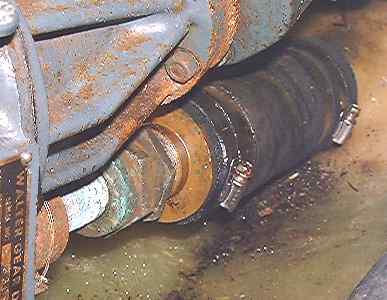 This is the stuffing box as it was when I got the boat in 2001. Note the longer stuffing box hose and the crusty prop shaft. The packing gland is the same as in the photo above before cleanup and buffing.