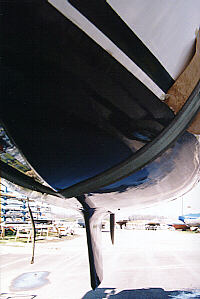 Bottom After Sandblasting
Top of Keel After Sandblasting
Bottom Before Launch
Seacock Installation
Bilge Pump Installation
Rudder Shaft Repair
Engine Well Drain
Under the Cockpit
Main Electrical Panel
Main Junction Box
2nd Battery Box

Details Photo Page (Text)
Photo Library (Text)


This is the bottom just before launch for the 1997 season. This is the third season with VC Offshore and we are very happy with the performance of the paint. In lake Erie the biggest fouling problems are slime and algae which scrubs off easily. The Offshore is sturdy enough to be scrubbed without removing paint.
(See Maintenance Log for 5/4/97-5/9/97)

Details on keel and keel bolts

My bottom treatment went like this:

1st Year
Pull boat for winter

Sandblasted to remove all old paint and open small blisters

Opened any osmotic blisters with dremel tool (had about a dozen dime sized)

Let bottom dry out over winter

Filled and faired all blisters with West System epoxy with fairing additive

Applied 3 coats of Interlux 3000 barrier coat with roller following manufacturers directions

Applied 2 coats of Interlux VC Offshore with roller following manufacturers directions

2nd Year
Applied 1 coat of Interlux VC Offshore with air sprayer following manufacturers directions

Wet sanded to 240 grit

3nd Year
Applied 2 coats of VC Offshore with foam brush to edges of keel, rudder and bow

Sanded smooth with 240 grit what I applied with foam brush

Applied 2 coats Interlux VC Offshore with air sprayer following manufacturers directions

Wet sanded to 240 grit then to 400 grit

4th Year
Touched up thin spots with VC Offshore using foam brush

Wet sanded to 400 grit

5th Year
Touched up keel, rudder and some spots on hull with foam brush.

Hear are some tips I learned the hard way:
Spraying is much faster and I got a better finish requiring less sanding. My sprayer is a Krebs 35T (about $120). It is far superior to the Wagner sprayers I have used. I got best results with a #8 tip 10-14" from the surface. The siphon tube works fine with the Offshore and Interprotect. Clean-up is easy. This sprayer costs more but I think it's worth it. And you can use it around the house. I have sprayed the Interprotect 3000 on other boats and that also worked very well. You have to sand within 2-4 hours or it gets quite hard.
A smooth bottom is faster and easier to keep clean

Before spraying apply a couple of coats with a foam brush to the edges of the keel, rudder and bow (where paint tends to wear faster)
Start sanding with 240, 400 doesn't have enough bite
Use 3M Fineline tape to mask the waterline and tape paper to that with regular cheap tape. You can leave Fineline on the boat for weeks without leaving a glue residue behind.