Taking Boat Photos
|| Dan's Home Page | Pyxis Home Page ||
---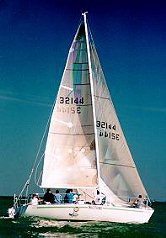 There are a lot of photos of our boat on these web pages and I thought some people might be interested in how I took them. I took all of the photos that show details of the boat. The photos of Pyxis out on the water were taken by friends from their boats.
I have some rules of thumb for photographing other boats on the water:


Use fast film (e.g. 400 ASA) even in bright conditions

Use fast shutter speeds

Use small apertures

Level the horizon in your viewfinder

Take lots of shots

Bracket your exposures

Use a polarizing filter

Unless you're concerned about a risk of collision, don't bother to snap the photo because you're too far away.


Fast film lets you use fast shutter and small aperture settings. Fast shutter speeds freeze the action and keep your photos sharp. Small apertures increase depth of field, make focusing easier and make your photos sharper. There is a trade off here, fast shutter means larger apertures. That's why I use fast film. I can use relatively fast shutter speeds and small aperture settings. A general photography rule of thumb is to use a minimum shutter speed that is 2 times the focal length of the lens (e.g. 1/100th for a 50mm lens). I would double that when shooting from a boat (e.g. 1/200 for a 50mm). Take a lot of photos and bracket your exposures to compensate for extreeme light and shadow conditions.

With my camera, I usually get best results overexposing 1-1.5 stops from what the camera meter tells me. Try pointing the camera down at the water to meter the exposure. A lot of auto cameras have a memory lock feature which let's you do this (I mostly use manual exposure cameras). Learn the particular features of your camera. Print film is more tolerant of overexposure then underexposure so I err on the over side. Slide film is the opposite but I don't use it much so I am not experienced with it.

I always have a polarizing filter on my camera when I am out on the water. Try one and you'll see why.

Get close to your subject, the closer the better. Especially if you're using a typical point and shoot camera. Just be sure someone else is driving the boat. If you can't see the people on the other boat you're too far away.

I shoot with a couple of different cameras. I have a couple of 35mm SLR bodies and I usually use a 60-300 zoom or a 28mm. I really like the 28mm. But I have to get real close to the subject boat. I also use a point and shoot Nikon 35mm with a 35mm lens. It is water proof and takes a great photo. Most of the photos of Pyxis sailing were taken with just such a camera and the results can be quite good.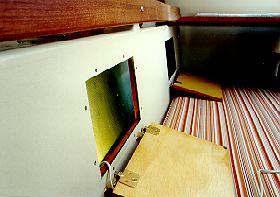 The photos of details and interior spaces are mostly with an SLR and a 28mm lens. I usually want a lot of depth of field in these photos and the 28 provides that. I often use a flash or some extra lighting for these photos. For the photo here I stuck a light inside the locker.

-DHP
---
Images
First Photo . . . Start here to view like a slide show
Photo Pages (Text Listing)
Pyxis_Sailing (Text)
Pyxis_Interior (Text)
Sails (Text)
Pyxis_On_the_Hard (Text)
Cover_and_Frame (Text)
Details_and_Modifications (Text)
Repairs (Text)
CAD_Drawings (Text)
---
What do you think of my WWW pages?
Email me with you comments.
dan@pfeiffer.net

Copyright ©1999 Dan Pfeiffer