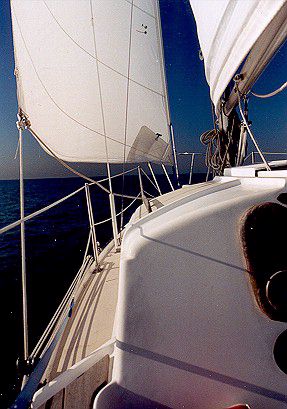 Mainsail
Main & Working Jib
Main & 130% Genoa
150% Genoa
170% Genoa
Spinnaker
Asymmetric Spinnaker

Sail Data

Sails Photo Page (Text)
Photo Library (Text)

Other photos that show the 130
Sailing with 130
Another photo sailing with 130
Main & 130% Genoa
Beam Reaching
Surfing at 9.5 Knots

This is the 130 flying from a 2 foot pennant at the tack. This raises the sail on the headstay. The higher clew position means the sail sheets further aft. This gives a tighter sheeting angle and I think the boat points better with the 130 on the pennant. I made the pennant from 1" webbing with loops every 6 inches from 12" to 30" so I can adjust the height.
130 Data
| | |
| --- | --- |
| Luff | 28.00 ft |
| Leech | 25.90 ft |
| Foot | 16.40 ft |
| LP | 14.9 ft |
| Area | 209 sf |
| %J | 128.6% |
| SD | 17.9 ft |