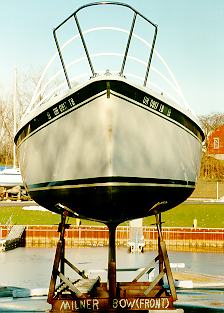 On the Cradle
In the Slings
Snowbound
Snowbound 2

On Dry Photo Page (Text)
Photo Library (Text)


We bought this cradle in 1995 and had it modified to better fit the boat. We had pipe fitted to take the larger jack screws from our jack stands and had the forward supports tilted inboard about 12 degrees. The pads line up well with the bulkheads and the keel is fully supported. It's really important to have the forward pads under a bulkhead. The boat sits like a tripod because of the swept back keel and the forward pads take a lot of the load. We had 3000 lbs of snow on the boat in Nov. 96 and there were no signs of oil-canning on any of the pads.(See the Maintenance Log for 10/23/95 and 11/16/96)
CAD Drawing of the Cradle


Cradle Fit


The proper fit of the boat on the cradle is important. If the pads are not in the right places the hull will not be properly supported and may be damaged. The cradle pads should be aligned with the bulkheads of the boat. The aft bulkhead is in line with that aft tip of the keel, the forward bulkhead (aft end of v-berth) is about 8" ahead of the forward most part of the keel. More weight is carried by the front pads then the aft because of the shape of the keel. You could probably back off the aft pads without upsetting the boat. Whatever the exact location of the pads, most of the weight of the boat should be on the keel. When the yard sets my boat on the cradle they lower it onto the keel support until there is about 2000 lbs left in the slings. Then the pads are run up to take up the rest of the load. I don't know if this is the best setup but it survived having 3,000 lbs of snow on the deck without any trouble.
Boat With Snow on Deck
Maintenance Log for 11/16/96 Snowfall