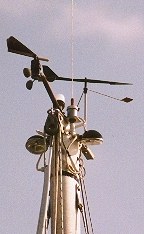 Outhaul
Downhaul
Backstay Adjuster
Adjustable Genoa Cars
Extended Genoa Track
Halyards
Cabintop Winch
Masthead


Rigging Photo Page (Text)
Photo Library (Text)


This is my rather cluttered looking masthead. You can see the top of the headfoil, spin halyard block, wind instrument, windex, windex light, masthead light, VHF antenna, and 2 spot lights that illuminate the deck and anything in their way. These are 55 watt 3 1/2" diameter lights I got from JC Whitney. They have plastic housings and stainless hardware. They do a great job of lighting up the sails at night when you want to be seen.