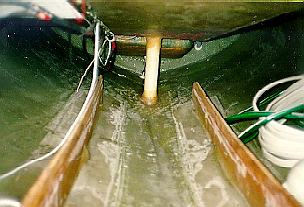 Bottom After Sandblasting
Top of Keel After Sandblasting
Bottom Before Launch
Seacock Installation
Bilge Pump Installation
Rudder Shaft Repair
Engine Well Drain
Under the Cockpit
Main Electrical Panel
Main Junction Box
2nd Battery Box

Details Photo Page (Text)
Photo Library (Text)

This is the space under the cockpit as seen from the cabin floor. I improved access to this space by building a new companionway step that folds up and slides to port under the sink. You can just see the factory engine well drain behind the rudder post. I replaced this with a larger PVC tube that I glassed in place.