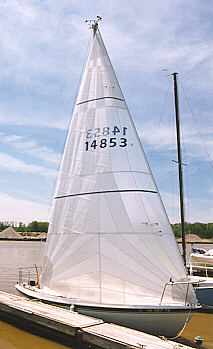 Mainsail
Main & Working Jib
Main & 130% Genoa
150% Genoa
170% Genoa
Spinnaker
Asymmetric Spinnaker

Sail Data

Sails Photo Page (Text)
Photo Library (Text)

This is our 150 genoa. It's a mylar/dacron laminate. It is very stiff and reponds to even the smallest trim adjustments. It's a super sail when it's flying but when it comes down on deck it's a bear to deal with. If I had it to do again I might get a dacron sail just for the ease of handling on deck. On the otherhand it's so nice when it's flying puitting up with a little on deck trouble may not be so bad.


Other photos that show the 150...



150 Data
| | |
| --- | --- |
| Luff | 32.33 ft |
| Leech | 30.85 ft |
| Foot | 18.65 ft |
| LP | 17.4 ft |
| Area | 281 sf |
| %J | 149.2% |
| SD | 19.7 ft |