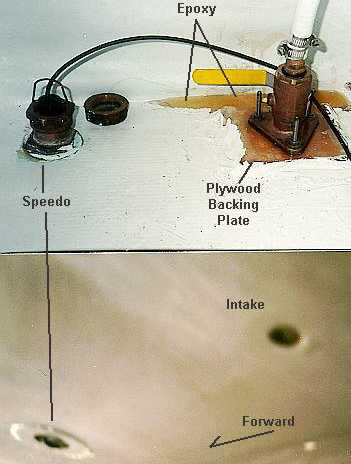 Bottom After Sandblasting
Top of Keel After Sandblasting
Bottom Before Launch
Seacock Installation
Bilge Pump Installation
Rudder Shaft Repair
Engine Well Drain
Under the Cockpit
Main Electrical Panel
Main Junction Box
2nd Battery Box

Details Photo Page (Text)
Photo Library (Text)


This photo shows the seacock and thru-hull I installed for the head intake. It is located in the forward dinette locker. The seacock is mounted to a 1/2" plywood backing plate that I glassed into the hull. The seacock is thru-bolted and the screws are countersunk on the outside of the hull as is the thru-hull. The bolt heads and the thru-hull are faired over with West System epoxy with a filler leaving just the intake hole on the hull. This can be seen in the bottom half of the photo which shows the outside of the hull. The hull is about 3/4" thick in this area. (See Maintenance Log for 4/21/95 and 5/3/95)

My practice now is to build up a pad from fiberglass rather than wood. It seems like a better idea to eliminate all the wood if you can no matter how well you think you have sealed it. See the page on relocating the speedo impeller for an example.