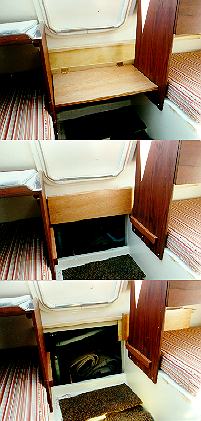 At The Dock
From The Masthead
The Cockpit
Interior Looking Forward
Interior Looking Aft
Gutted Interior
Companionway Step
Head Cover
Settee Lockers
Settee Locker Bottoms

Inside & Out Photo Page (Text)
Photo Library (Text)


This is the companionway step I built to replace the original step. When you fold it up it slides to port under the sink to provide full access to the space under the cockpit. The factory step blocked half of the opening leaving about a 10 inch high opening instead of 16. These three photos show the step in action. (See maintenance log for 12/26/94)

With this modification we can store a large cooler under the cockpit. The opening is 16.5" high and 21" wide (the actual opening is wider but the stbd cockpit drain limits the useful width). When we cruise we get the cooler and another plastic box almost as big into the under cockpit space. I have considered making a built-in cooler to fit in this space but so far I've only done a drawing.

Here are dimensions for some coolers that should fit under the cockpit with a step modification that provides full access to the opening:


Links are to manufacturers sites

The step halves are made from 3/4" A/A plywood. The vertical panel is 3/8" A/A and the slide parts are made of poplar. If I were doing this project again I would use oak, ash or maple for the slide parts. I found the poplar was not as easy to work with. It was not as straight as these other woods would have been and it's not as hard. It has held up just fine but building the slide would have been easier with one of the other woods.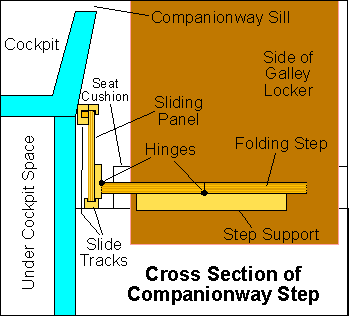 Photo showing step with galley locker removed
Cross Section Drawing
Photo of Space Under Cockpit
Interior Layout
Small Igloo Cooler under oem step