Outhaul
Downhaul
Backstay Adjuster
Adjustable Genoa Cars
Extended Genoa Track
Halyards
Cabintop Winch
Masthead


Rigging Photo Page (Text)
Photo Library (Text)


In the summer of '96 I replaced the factory genoa tracks with new 14' sections. the OEM track was 4' and stopped just ahead of the side deck drain. The new track allows the genoa car to be placed in the proper fore/aft position for sails smaller then the #1. With the factory track it was not possible to set the genoa car at the proper sheeting distance (SD) for any sails smaller then our 170. This modification reduced the tacking angle with the smaller sails by 6-10 degrees. I had wondered why the boat pointed so much better with the 170 then the 130. The total cost was about $125 including the hardware. That's a pretty cost effective increase in VMG. And the T-Track is very handy for securing the PVC cover frame I made in the fall.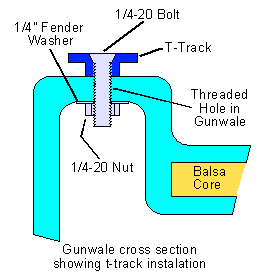 I drilled 7/32 holes in the top of the gunwale and tapped them for the 1/4-20 bolts that hold the t-track down. I sealed the holes with Boat-Life Sealer/Caulk and backed the bolts with fender washers and nuts on the underside of the gunwale. The threaded holes provide for a much better seal and create a stronger mechanical bond for the t-track. I have had no leaking. There is no core in this part of the deck.
See the Maintenance Log for 6/16/96 and 7/6/96 and the Ships Log for 7/7/96

Deck Plan
Photo from the masthead before new track
Photo from the masthead after new track
Adding an Inboard Track
Back to the Photo Library... | (text version)
Back to the Pyxis home page...